hidden
hidden
About these rebates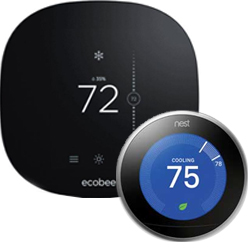 Heating and cooling costs make up the majority of your energy bill, and your thermostat is the gateway to considerable savings. Earn rebates toward a variety of qualifying Wi-Fi enabled thermostats to make it easy to manage your home's temperature and energy use.
Please review all program requirements (PDF) before purchasing equipment or applying for rebates.
Important!
The online rebate application below is for equipment purchased and installed after Jan. 1, 2023. If your equipment was purchased and installed in 2023, please download the 2023 application (PDF).
Download a printable application instead (PDF)
Available rebates
Thermostat Rebates
Specification
Rebate
"Smart" thermostat View eligible products
$50
Wi-Fi enabled thermostat
$30

Homes using CenterPoint Energy natural gas or CenterPoint Energy electric as the primary heat source are eligible for this rebate. Dual fuel systems are not eligible.
Rebate available for existing homes only; new construction is not eligible.
"Smart" thermostat: Must be Wi-Fi capable and connected to the home. Must be ENERGY STAR certified as "Smart." Limit of two thermostats per home (includes both "Wi-Fi" and "Smart").
Wi-Fi enabled thermostat: The product must be Wi-Fi capable and connected to the internet for programming and adjusting remotely. Limit of two Wi-Fi enabled thermostats per home (includes both "Wi-Fi" and "Smart").
hidden
hidden
What are the different types of thermostats?
Wi-Fi/"Smart"
Advanced programming/scheduling
May be set remotely via a smart device
Generally more expensive than other types
Substantial CenterPoint Energy rebate available
Programmable
Programming and scheduling
Cannot be set remotely
Generally affordable
No CenterPoint Energy rebate available
Non-programmable
No programming or scheduling capabilities
Cannot be set remotely
Most affordable type
No CenterPoint Energy rebate available
hidden
hidden
Qualifying for rebates
Before purchasing equipment, be sure to read the complete eligibility guidelines to ensure your new equipment and your home qualify for rebates.
Common questions
In summer and warmer months, try to set your thermostat no lower than 78°F. In colder winter weather, set it no higher than 68° F to prevent your furnace from working overtime. When you don't need to use your AC or furnace (when you are out of the house, for example), set your thermostat to a temperature that will prevent your heating/cooling equipment from operating.

With a smart thermostat and its companion app, you can change or view thermostat settings from anywhere you have an Internet connection (at home or on the go). For example: if you leave for vacation and realize you forgot to adjust your home thermostat, a smart thermostat would allow you to adjust it from the airport or even the beach!
Need more information? 1.866.240.8476